World's newest country: future of South Sudan tied to efficacy of foreign aid
Western- and UN-backed aid organizations have lined up to support the fledgling Republic of South Sudan, but the challenges facing the nation 'would tax even the most developed of countries.'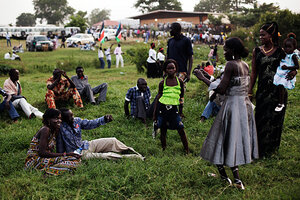 David Azia/AP
• World's newest country is a three-part series on the challenges facing South Sudan.
Part 1: Can South Sudan limit internal strife?
Part 2: South Sudan's oil remains a sticking point
Part 3: Future of South Sudan tied to efficacy of foreign aid
The Republic of South Sudan was born on Saturday to much international fanfare, as tens of thousands of southerners joined African heads of state, United Nations Secretary-General Ban Ki-moon, and a host of Western diplomats representing the nations who have supported the South in its long walk to this moment: statehood.
Now that the celebrations are dying down, a new chapter in the war-devastated South's history is beginning and the Republic of South Sudan looks set to be the new darling of the aid community.
The newly sovereign southern government and the international aid community are both in the process of shaping their future plans and priorities in one of the world's most underdeveloped and poorest countries.
USAID, the development arm of the American government, has one of its largest offices on the continent in the South's capital, Juba, and has plans to expand operations in the newly independent country. The British equivalent of USAID is likewise in deep in the south, with one of its largest per capita aid programs already underway here.
---