Despite threats, Malawi protesters rally against high prices, corruption
Like those in North Africa, nationwide protests in Malawi have been sparked by discontent over higher food and fuel prices, as well as concerns that the government is becoming increasingly authoritarian.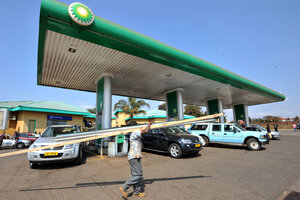 Alexander Joe/AFP/Getty Images/Newscom
Nationwide protests began today under tight security, with hundreds of demonstrators in Malawi's two main cities gathering to rally against high fuel and food prices and increasing crackdowns by the government of Malawian President Bingu wa Mutharika.
In the capital city of Lilongwe, and in the commercial city of Blantyre, hundreds of young men and women gathered at rally points, dressed in red, and began to march in small groups through the cities chanting "Bingu leave, Bingu leave." The protests began in the early morning hours, after a day of intimidation by young pro-government thugs prowling the city with machetes on Tuesday, and after a pro-government citizens group successfully lobbied for an injunction against civil society and opposition groups participating in the demonstrations.
In Lilongwe, High Court Judge Chifundo Kachali granted the group an injunction yesterday evening in response to a plea by self-described "concerned citizen" Chiza Mbekeani. Police in Blantyre tried to disperse crowds under this court injunction, but when the police weren't able to produce the actual printed order, demonstrators continued to gather.
At press time, lawyers representing the opposition and civil society are at the high court attempting to get another hearing in order for the demonstrations to go ahead. And at the gathering points, civic activists and news reporters were sending out the word over Twitter that police had begun firing tear gas to disperse crowds.
---