Amid riots, Malawi's president issues harsh warning to opposition
A day after he called for peaceful dialogue with protesters, President Mutharika warned that he will 'smoke out' the opposition figures who he suspects are behind the violence.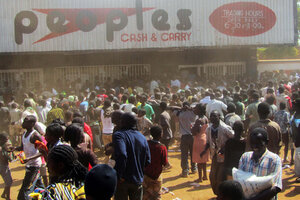 Newscom
Malawi's embattled President Bingu wa Mutharika toured the riot-struck town of Zomba today, as government authorities ordered the army and police to quell riots and patrol the streets in a bid to restore peace.
Ministry of Health and police officials have confirmed 18 deaths, scores of severe injuries, and 250 arrests since protests began on July 20 against high fuel and food prices and against what many Malawians believe is bad governance by the Mutharika administration.
The location of the deaths suggests that protests were widespread – nine deaths in the northern city of Mzuzu, six dead in the capital of Lilongwe, one death in the northern town of Karonga along the Tanzanian border, and two deaths in the commercial hub of Blantyre.
President Mutharika has blamed civil society groups and opposition parties for the violence, saying the protestors were provoked to loot and create chaos. Civil society activists blame the police for provoking the violence, saying they have consistently urged demonstrators to remain peaceful.
At a state function in the southern city of Zomba, while presiding over the commissioning of police officers, President Mutharika warned that he had had enough of unfair criticism and sabotage perpetrated by the opposition and the civil society. Naming key opposition figures such as Vice President Joyce Banda as being behind the violence, Mutharika warned of a harsh government reaction.
---