Antiterror laws could impede US aid for Somalia famine victims
Al Shabab, an Islamist group with links to Al Qaeda, controls famine-stricken regions in Somalia. The US is looking for ways to help starving Somalis while not breaking antiterror laws.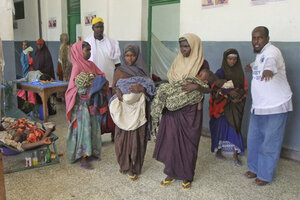 Farah Abdi Warsameh/AP
Urgent discussions are being held in Washington to find ways to provide food to starving Somalis while not breaking strict antiterror laws barring aid to areas held by Islamists with ties to Al Qaeda.
Under rules from the US Treasury's Office of Foreign Assets Control (OFAC), no US government money may be spent on projects if there is any risk that it will "materially benefit" a listed terror organization.
That includes Al Shabab, an insurgent group linked to Al Qaeda that has taken control of most of southern Somalia, the area worst hit by the current Horn of Africa drought.
Since the Treasury rules came into force in 2009, US aid to Somalia – once the largest share of all world donors – has dropped by 88 percent, from $237 million in 2008 to $20 million in 2011. Washington argues that this is because aid cannot be delivered in places that are unsafe for agencies' staffs, or where it might be looted by the Islamists.
---
Follow Stories Like This
Get the Monitor stories you care about delivered to your inbox.