Ethiopia plans ambitious resettlement of people buffeted by East Africa drought
Ethiopia sees voluntary resettlement of seminomadic peoples into villages as a longterm solution for dealing with the impact of East Africa's droughts.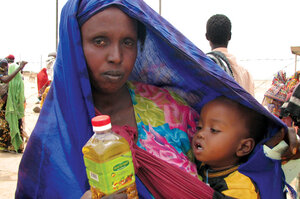 William Davison
In Ethiopia's rain-starved eastern badlands, livestock is the sole asset for most. Swaddled in robes, pastoralist families traverse huge tracts searching for water and pasture for their herds, uprooting camps as they go. When seasonal rains fail, life becomes a battle for survival.
As aid agencies scramble to feed some 11.5 million people suffering from what is being called the Horn of Africa's worst drought in 60 years, Ethiopia's government is enacting a resettlement program that it hopes will be a longlasting solution to a longstanding burden.
In its far-flung regions, including the vast east, populated mostly by ethnic Somali pastoralists, Ethiopia wants to group its scattered semi-nomadic peoples into permanent settlements, largely ending a mobile lifestyle that has sustained people for centuries.
In many ways the plan sounds all too familiar. During the catastrophic famine in the mid-1980s, Col. Mengistu Haile Mariam's Marxist junta forced highlanders across the country to fertile lowlands. Tens of thousands perished en route or died in their new, alien surroundings. This time, however, the government says resettlement is voluntary and consists of regional destinations instead of a mass, cross-country exodus.
---