Zimbabwe: WikiLeaks cables reveal Mugabe's inner circle talking with US
WikiLeaks cables show that Mugabe's top advisers are already planning for a Zimbabwe succession.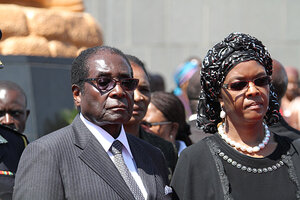 Tsvangirayi Mukwazhi/AP
At 87, President Robert Mugabe isn't the oldest serving president of Africa, nor the longest-serving. But the rumor that Mr. Mugabe may be in ill-health has been an open secret among Zimbabwe's political elite for years.
That secret has been given increasing attention with the release of US diplomatic cables by the whistle-blowing website, WikiLeaks. But perhaps the most surprising aspect of this latest WikiLeaks release is not what has been said, but who is saying it.
Members of Mugabe's own inner circle, including Mugabe's hand-picked Reserve Bank Governor, Gideon Gono, are shown to have talked regularly with US diplomats, sharing insights into the rivalries within Mugabe's long-ruling ZANU-PF Party and between the top ministers of Mugabe's coalition-government cabinet.
According Mr. Gono – quoted in a February 2006 cable – Mugabe's own wife, Grace, confided to him that her husband is "out of it about 75 percent of the time."
But Mugabe, even in alleged frailty, is nowhere close to ceding power, even to his own close protégés. Still, the release of the WikiLeaks cables provides a window into the power-struggles within Zimbabwe's ruling elites. Their release leave several top Zimbabweans exposed, which may lead to criminal charges. Either way it will certainly make it more difficult for the US diplomatic corps in Zimbabwe to keep informed about events in that country, and to recommend appropriate US policies.
---