Zambia's new President Sata sets new mining rules for China
President Michael Sata, known for hard rhetoric against abuses at Chinese-operated mines in Zambia, says that Chinese firms are welcome to stay if they abide by Zambian labor laws.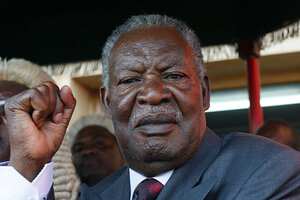 Jerome Delay/AP
Days after Michael Sata, the populist opposition leader with the anti-Chinese rhetoric, won election as new president of Zambia, Chinese mine investors gave their Zambian employees a raise.
At the Chinese-owned Chambishi Copper Mine in this Copperbelt town, mine operator Hedges Mwaba, received two different paychecks: one for his usual salary of 2.9 million kwacha ($600 US) and another 4.8 million (about $1000).
Mr. Mwaba assumes this was a mistake, of course. But he also says it indicates that the mine owners were worried enough about a possible victory by Mr. Sata's Patriotic Front party that they prepared two separate runs of paychecks: a standard run in case Sata lost, and an 85 percent raise in case Sata won.
"What is weird is that I got two pay slips," Mwaba tells the Monitor. "It looks like the Chinese had prepared for any outcome of the election by printing two pay slips for us for the month of September. If the incumbent Movement for Multi party Democracy MMD [incumbent President Rupiah Banda] had won the presidential election, we would have been paid old meager salaries. But we got almost double the money because the opposition Patriotic Front led by Michael Sata won the election."
As the largest copper producing country in Africa – some $2 billion worth by the end of 2010 – Zambia is more than just another landlocked African country to the People's Republic of China, a country whose ongoing economic expansion have made it the world's largest copper consumer. Sata's victory has been seen by many as a sign of growing disaffection among Zambian voters who felt that Zambia was not getting a fair share of the mineral deals signed by previous Zambian governments. Some business leaders here fretted that Sata's rhetoric might scare off foreign investment. But for now, the general mood is one of rapprochement, with Sata voicing moderation and Chinese investors promising good corporate behavior.
---