Kenyans watch as their leaders take the stand at ICC hearing
Pre-trial hearings at the International Criminal Court (ICC) on human rights charges against six Kenyan leaders are must-see TV across Kenya, although support for Hague trial hinges on firm proof of guilt.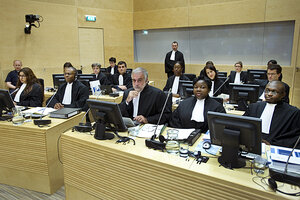 Paul Vreeker/AP
The most prominent of six Kenyan men accused of masterminding the country's infamous 2007-08 post-election violence took the stand Thursday in pre-trial hearings at the International Criminal Court (ICC) in The Hague, Netherlands.
Uhuru Kenyatta is the son of Kenya's post-independence founding father Jomo Kenyatta, and currently the country's deputy prime minister and its finance minister.
Along with two other key allies of President Mwai Kibaki, he is accused of five counts of crimes against humanity, including murder, rape, persecution, and forcibly moving people from their homes.
Three other men, one-time supporters of Kibaki's election rival, Raila Odinga, stand separately accused in a second similar case also before the court. Kenyatta is the biggest fish of the lot, however.
As he sat in the dock – although not yet under conditions of a full trial – many Kenyans in tea rooms and offices across the country sat riveted by the sight of one of their most prominent politicians under scrutiny for such serious crimes.
Prosecutors allege that he organized members of a banned mafia-like sect, the Mungiki, to be armed, financed, and transported to towns northwest of Nairobi to carry out his orders to attack supporters of his political rivals.
Appearing increasingly irritated by prosecution cross-examination on the stand Thursday, he denied this, as he has done since the charges were first aired earlier this year.
---