Second tourist kidnapping raises alarms on Kenya coast (video)
A second tourist kidnapping near Lamu, on the Kenya coast, raises concern that Somali criminal groups, pirates, or Islamists may have found a new soft target. Retired French journalist Marie Dedieu was seized Saturday.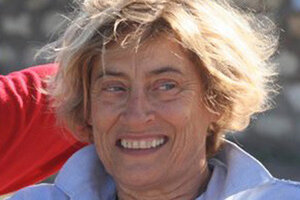 Reuters
The kidnapping of two Western tourists from their beachfront holiday homes in an upmarket resort on Kenya's north coast has raised fears of a worrying shift in tactics of both Somalia's pirates and its Islamist insurgents.
Both attacks took place in the Lamu archipelago, a string of white-sand islands that are the first significant settlement south of the Somali border, and one of Kenya's major tourist draws.
In the most recent raid, a retired French journalist, Marie Dedieu, was seized early Saturday from the thatched cottage she rented for half the year on Manda Island.
Somalia-watchers are confused. For both pirates and Islamists, taking Westerners hostage from Kenya would be a major change in tactics. Al Shabab has never gone this far out of its way to kidnap foreigners, and the pirates have never struck on land before.
"Two instances doesn't equal an increasing trend," says Roger Middleton, a Somalia expert at Chatham House, an independent think tank in London. "But if somebody has success in carrying out an attack like this, and shows the possibility of benefitting from that attack, you're likely to see other people replicate that model."
---