Why Pedro Pires won the $5 million Ibrahim Prize for African governance
Cape Verde's former president Pedro Pires won the $5 million Ibrahim Prize for good governance both for how he eased his nation's indebtedness, and for his willingness to step down from power.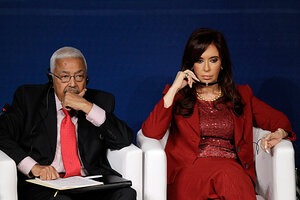 Felipe Dana/AP/File
As president, Pedro Verona Pires helped take his native Cape Verde out of the kind of budgetary crisis and indebtedness that now afflicts bigger European nations like Portugal, Greece, and Spain. And then he did the most unusual thing of all, for an African leader: he stepped down from office.
For his efforts in good governance, Mr. Pires was named as the third man to receive the Ibrahim Prize, a $5 million prize given by Sudanese-born telecommunications executive Mo Ibrahim to African leaders who raise the bar for good governance and leadership.
Speaking of Pires, prize committee members wrote that "Cape Verde is now seen as an African success story, economically, socially and politically," in their citation, announced Tuesday.
Pires himself told reporters that the prize was "a recognition of my 50 years of wholesale and exclusive dedication to politics, and the causes of independence and democracy."
Awarding leaders for simply doing their job and stepping aside may seem like an odd idea, but given the large number of African leaders who hang on to power, year after year, decade after decade, the Ibrahim Prize stands as much as an encouragement for banal good behavior as it is a chastisement for ineptitude and greed. And as resource-rich nations of the African continent take a larger part in the global economy, both as producers and as consumers, good governance takes on an even greater importance.
---