Liberia election: Voting went smoothly, but how about the results?
Foreign observer missions are praising Liberia's first domestically organized national elections since the end of civil war in 2003, but experts warn that a likely runoff election could still trigger violence.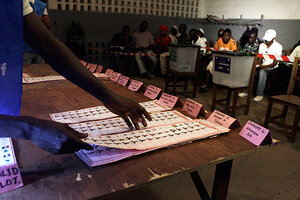 Rebecca Blackwell/AP
Liberians braved the rainy weather yesterday and turned out in great numbers to vote in the West African nation's first domestically organized elections since the end of the civil war in 2003, with international observer groups praising the voting process for the orderly and peaceful manner in which it was executed.
"I have personally gone round polling stations throughout Monrovia and have spoken with around 150 [Economic Community of West African States] observers and we are pleased to see that the voting went smoothly and that there was orderliness and a high turnout of voters as well as a peaceful conducting of elections," says Professor Attahiru Jega, the head of the ECOWAS Election Observation Mission in Liberia.
The African Union and the Atlanta-based Carter Center have praised the manner in which the vote was conducted. And in a statement issued from the United Nations headquarters in New York, Secretary-General Ban Ki-moon said the presidential and legislative elections were an "important milestone" in the Liberia's efforts to "consolidate peace and democracy in the country."
---