Kenyans ask if military attack in Somalia has exit strategy
Kenya's military incursion into Somalia, provoked by string of kidnappings by Al Qaeda-affiliated group Al Shabab, have some Kenyans asking whether the risks are worthwhile.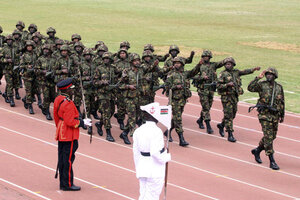 Khalil Senosi/AP
Five days into its military incursion into Somalia, Kenya's military forces are closing in on an insurgent stronghold in what is their first major military operation outside of Kenyan soil since the end of the colonial period.
The operation – prompted by a number of provocations, most notably the kidnappings of foreign tourists from Kenya's port city of Lamu and the kidnappings of aid workers along the border – is a surprising show of military muscle for a country that has preferred to negotiate its way out of trouble with neighbors. And while the incursion, called Operation Protect the Nation, is still in first days, Kenyans are already voicing concerns about its strategic goals and whether there is an exit strategy.
"Fighting Al Shabab [the Al Qaeda-linked Islamist group in Somalia] cannot be a knee-jerk reaction, but a deliberate and fully planned campaign that should have taken not less than three to four months of preparation," wrote Imaana Laibuta, a retired Kenyan Army major, in a column in the Nation newspaper, adding that Kenyans have a right to ask their government if "their soldiers are fighting a good fight and not an unplanned campaign in reaction to the hue and cry following the recent kidnappings of foreigners."
Any operation in Somalia carries great risks for Kenya, including the likely backlash of Al Shabab militants or operatives against military targets as well as civilian targets such as tourist areas, airports, and congested urban zones.
---