Grenade attack shows risks of Kenya's Somalia war coming home
A grenade attack early Monday on a Nairobi bar injured 14 and underscores the dangers Kenya may face after launching attacks in Somalia in response to kidnappings of foreign tourists in Kenya.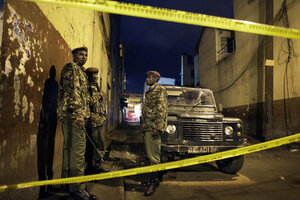 Ben Curtis/AP
A grenade attack on a downtown Nairobi bar, injuring 14 people, has underlined the dangers that Kenya faces at home, while its military heads off to war in the neighboring country of Somalia.
Kenya launched a military incursion into Somalia on Oct. 15, after a string of kidnappings of foreign tourists and aid workers by Somali gunmen began to take a toll on Kenya's crucial tourism industry. Its troops are reportedly approaching the southern Somali town of Afmadow, a crucial way station on the road to the port city of Kismayu, where the Islamist militia group Al Shabab maintains its main base of operations.
No group has taken responsibility for the Sunday night grenade attack on the Mwaura Pub, a bar in Nairobi's thriving downtown. Nairobi police say they have no evidence linking the attack to Al Shabab, but told Agence France-Presse that they were investigating the Islamist militia group, which has threatened retaliatory attacks on Kenya because of its incursion. Al Shabab carried out suicide blasts against Uganda in July 2010 because of Uganda's military support for an African Union peacekeeping mission in Mogadishu, propping up Somalia's fragile transitional government.
---