Move over Boko Haram, Nigeria's MEND rebels set to restart oil war in Niger Delta
Leaders of Nigeria's MEND rebel group – and other militia commanders in the oil-rich Niger Delta – say they're ready to launch fresh attacks after two years of relative quiet following a 2009 amnesty.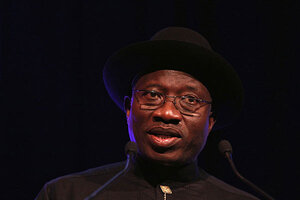 Daniel Munoz/Reuters
Earlier this month, Nigerian President Goodluck Jonathan was forced to move a large outdoor celebration marking the 51st anniversary of Nigeria's independence from British colonial rule from Eagle Square, a large public space in the capital city of Abuja, to his presidential residence.
Boko Haram – the Muslim militant group that killed 23 in an Aug. 26 bombing on the United Nations headquarters in Abuja – had threatened the festivities.
But Boko Haram was not the only group to threaten an attack.
The Movement to Emancipate the Niger Delta (MEND) – a militant group from the oil-rich area of Nigeria's predominately Christian South – issued its own threat. It claimed responsibility for a bomb at a similar celebration last year, which killed 12 people, and said it would strike again.
MEND's threat was its most audacious public announcement in years – a sign of its growing frustration over the Nigerian government's decision to shift its attention to the country's mainly Muslim northern half, where Boko Haram operates.
It's also one of the latest signs that MEND and other militant groups that terrorize the Niger Delta region are set to revamp their campaign of attacks after remaining relatively quiet since amnesty was offered to top militant leaders in 2009.
---