Why so much is at stake as Congo goes to polls
Congo's polls today could be a crucial step for the resource-rich country's progress toward stability and self-determination. Disputed elections could leave it conflict-prone and poor.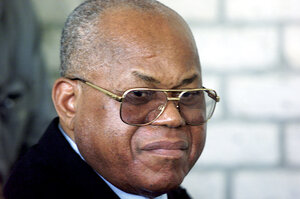 Mike Hutchings/Reuters/File
Holding elections in a postwar country with few roads, dense jungles, a weak judiciary, deep ethnic divisions, and roving bands of armed militants might seem like a daunting task. Add in the politicians – 19,000 of them, running for 500 parliamentary seats and nearly a dozen candidates for president – and the Democratic Republic of Congo's Nov. 28 elections take on a complexity that staggers the mind.
Yet the importance of these elections, which began in polling stations across Congo today, cannot be overstated. Credible elections that are accepted by the public and by politicians are the first step toward stability and self-determination, a huge issue for a country that is rich in resources but unable to channel those resources toward development. Disputed elections would continue to leave Congo weak, conflict-prone, and able to be manipulated by its smaller, stronger neighbors.
Some observers say the risk of failure in this election is a return to civil war. An invasion by Rwanda and other countries to topple the previous president, Mobutu Sese Seko, in 1996 started a 10-year conflict that killed up to 5 million.
"It's easy to fall into the 'Congo is just a disaster' or the 'Heart of Darkness' mentality," says David Pottie, associate director of the democracy program at the Carter Center in Atlanta and an international election observer now in Kinshasa. "The importance of these elections is that they need to meet some reasonable degree of credibility in order to maintain the momentum for establishing some fundamental democratic practices and the institutions to keep it going. Also, if you have credible elections, that serves as a brake on the tensions that we find in country after country in which two-term presidents attempt to overturn term limits and cling to power."
---