Congo election: Two men declare themselves president
International observers reject the Congo election results that put President Joseph Kabila on top. His main rival, meanwhile, declares himself president.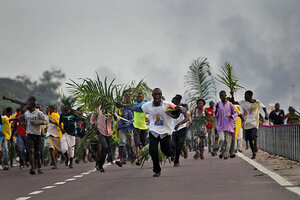 Jerome Delay/AP
Congolese police have launched a crackdown in the capital Kinshasa, rounding up Congolese youths from their homes, as opposition candidates and international observers reject Friday's results from recent presidential and parliamentary elections.
The Carter Center, one of several election observer missions that followed the Nov. 28 elections, said that multiple irregularities in the election and tallying process made them conclude that the election results "lack credibility." Etienne Tshisekedi, the main opposition candidate, meanwhile, declared himself president, saying that his own party's vote tallies taken from polling stations showed that he had won with 54 percent of the vote.
"The problem was obviously with the tabulation process," says David Pottie, mission manager for the Carter Center in Kinshasa, speaking with the Monitor by phone. Among the irregularities: Results from 2,000 separate polling stations in Kinshasa went missing, and some polling stations with improbably high turnout reported 100 percent voter support for the incumbent president. The Carter Center rated 40 percent of the 169 compilation centers around the country as "poor."
"In our conclusion we find the irregularities are significant enough to undermine the credibility of the election results," says Mr. Pottie. "But having said that, we don't have a smoking gun to reveal 1.5 million votes, and to reverse the order of the final results."
---