Mali arrests kidnap suspects, Al Qaeda releases pictures of victims
While Al Qaeda is showing signs of waning in southern and western Asia, Al Qaeda-related groups continue to make their presence felt across the African Sahel region.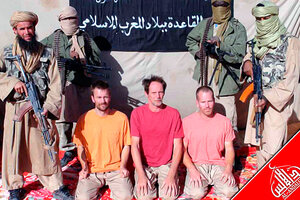 Agence Nouakchott Informations/Reuters
Malian police have arrested men suspected of having kidnapped five Westerners on behalf of Al Qaeda, while the terror group has released photos of the kidnap victims and demanded an end to Mali's cooperation with the French government.
The kidnappings, which took place in two separate incidents on Nov. 24 and 25 near the Malian town of Homburi (see map), are just the latest of a string of attacks on Westerners in Mali by those claiming to be associated with Al Qaeda.
Malian officials paraded three of the four arrested men in front of state TV cameras, and described the men as "subcontractors" who had kidnapped the Westerners on behalf of Al Qaeda in the Islamic Maghreb (AQIM), a shadowy group that says it is affiliated with the global jihad network. Western security officials say that organized criminal groups, generally associated with the smuggling of drugs and arms through the African Sahel region, have begun to kidnap Westerners and sell them on to radical jihadist groups who then ransom them back to their families.
"We confirm the arrest of four kidnappers," a spokesman for the Malian presidency told Reuters."They are subcontractors for AQIM, to whom they handed over the hostages."
---