Did Qaddafi downfall prompt Mali's Tuareg revolt?
Mali's military has been training to take on Al Qaeda insurgents, but the latest revolt by Mali's nomadic Tuareg people seems inspired by an influx of former Qaddafi fighters and arms.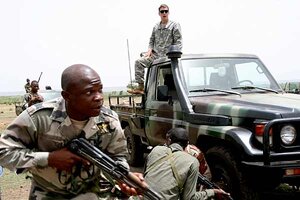 Alfred de Montesquiou/AP/File
In November last year a meeting took place in a range of rocky hills in the Sahara Desert in the far north of Mali. A delegation from Mali's parliament had come to meet a group of Tuareg who had a month earlier formed a new alliance. The group called itself National Movement for the Liberation of the Azawad.
The NMLA were a few hundred men camping out in the desert in the most basic conditions – meals of pasta or couscous followed by sweet tea around the camp fire. The movement, however, was talking tough.
They rejected the authority of the parliamentarians – many of whom were the elected representatives for the region the NMLA claimed was not part of Mali – and the NMLA leaders gave the parliamentarians some parting gifts; the flag and the map of what they hoped would soon be their own country, the north of Mali, a region they refer to as the Azawad.
Tuareg separatism
The Tuareg are a traditionally nomadic people who live spread across the Sahara Desert mainly in Mali, Algeria, and Niger. In Mali, the Tuareg have risen up against the central government four times since the country gained independence from France in in 1960. The latest rebellion began on Jan. 17, just a couple of months after that meeting in the desert.
Since then the NMLA have attacked at least seven towns across Mali's north. There have been dozens killed and tens of thousands of people have been displaced internally or been forced to flee to surrounding countries. The fighting risks not only destabilizing Mali, but also its neighbors in the region.
---