Will 2012 be the Year of the African Despot, again?
Senegal's Wade plans to run for president, despite a constitutional ban. Zimbabwe's Mugabe is banning NGOs ahead of presidential polls in 2013.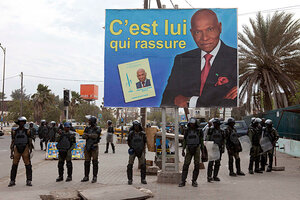 Joe Penney/Reuters
Senegal's Abdoulaye Wade is running for a third term, even though his country's constitution specifically bans it. Zimbabwe's Robert Mugabe has also indicated he will extend his 32 years in power, even as his parliament is attempting to ban the move. Congo's President Joseph Kabila is trying to patch together a coalition to stay in power, even though his party lost more than 40 percent of its seats in parliament in last December's elections.
Could 2012 prove to be the Year of the African Despot, again?
The signs are ominous. While democracy appears to thrive in a few African countries – such as Liberia, South Africa, Ghana – irregularities, vote-rigging, and intimidation appear to be the rule in much of the continent. Zimbabwe's long-ruling President Mugabe is hardly a surprise, of course, but in countries such as Senegal and the Democratic Republic of Congo, where peaceful opposition groups rose to power under a banner of reform, any sign of backsliding is a cause for concern.
Senegal's hope
Consider Senegal. Just 12 years ago, President Wade – a longtime opposition leader – rode to power after defeating long-ruling Abdou Diouf and promised to reform the Senegalese political system. He saw through a constitution in 2002 that banned presidents from holding office for more than two terms.
---