Will a London conference help set Somalia on path to peace?
Somalia aid groups and experts welcome renewed international attention, but warn that a focus on either state-building or military action alone could make things worse rather than better.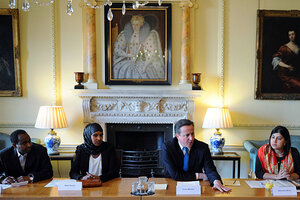 Stefan Rousseau/AP
After two decades of despair, there are tangible signs of progress in Somalia.
African Union forces, together with the armies of Kenya and Ethiopia have managed to push back an Al-Qaeda-allied militia force and create the kind of breathing space that the Somali government needs to start functioning. Food aid donations and successful crops have helped end Somalia's worst famine in more than 20 years.
Now, donor nations and regional partners are gathering in London for a British-sponsored conference starting tomorrow to help figure out a way forward that could lead to sustainable peace in Somalia. Donor groups, Somali politicians and activists, and neighboring allies such as Ethiopia and Kenya will be gathering to discuss security, humanitarian efforts, internal politics, and the perennial question of how to break the cycle of violence within Somalia.
Among the topics that are guaranteed to draw the most attention is how much international players like the United Nations and the African Union should intervene and how much military force should be used in the intervention. Britain is considering air strikes against the Islamist Al Shabab, reports the Guardian newspaper. The United Nations is expected to vote this week to send 5,700 peacekeepers to augment a 12,000 strong African Union peacekeeping force. And aid groups are issuing appeals to keep the supply of food and other aid flowing to meet the needs of some 1.5 million people displaced by war.
---