Kony 2012: 75 million viewers later, some Ugandans get first glimpse of film
Invisible Children's Kony 2012 film has sparked a global conversation about African warlord Joseph Kony. So far, however, little has been heard from those living closest to the conflict.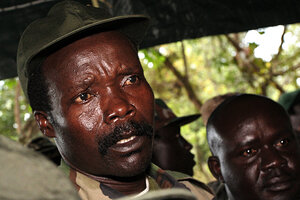 Stuart Price/AP/File
Soon after sunset Tuesday, on a projector screen in a dusty park in the center of a northern Ugandan town, survivors of Joseph Kony's war of terror will watch the film about him that has swept the world and been watched more than 75 million times on YouTube.
Few in Lira, once the epicentre of fighting between Kony's rebels and the Ugandan armed forces, have access to the Internet at speeds that will allow the 30-minute film to stream.
But Victor Ochen, director of a Ugandan charity working with people abducted or maimed by Kony's Lord's Resistance Army (LRA), is making sure that they will be able to see Kony2012.
"We have brought a projector up here and a very big screen, and even as I talk to you, we are setting it up in Lira Mayor's Garden," he tells the Monitor from the town, 220 miles north of the capital, Kampala. "It is only right that this thing which is being talked about in every corner of the world is also seen by the people whose story it sets out to tell."
The film, made by Invisible Children Inc., a San Diego-based activist organization, aims to focus US efforts to help bring about the arrest of Joseph Kony (pronounced Kohn), the LRA's leader. While it has spawned a global debate on the merits of Invisible Children's movie and social media campaign, little of the reaction – even from within Uganda – has come from those who have lived for years in the shadow of the conflict.
---