Somalia famine has ended, but many still hungry
Good rains and reduced conflict have helped aid groups reach hundreds of thousands of displaced people in Somalia who rely on their aid. The hunger crisis remains a delicate situation, though.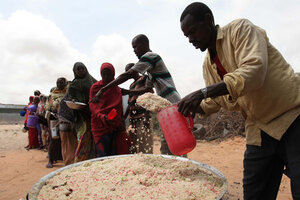 Feisal Omar/REUTERS/File
This time last year a series of alarming reports from Somalia's hinterland warned aid agencies that a "perfect storm" of factors was about to tip a long-running hunger crisis into Africa's first famine in more than a decade.
Within months, 4 million people in one of the world's most inaccessible countries needed urgent food handouts to keep them alive.
Today, thanks to better rains, reduced conflict, stable food prices, and international help, the situation is "much improved" and there is "little to no chance of a repeat of last year's famine," the United Nations reported.
"There are indications of improvement," says Tamara Nanitashvili, chief technical advisor for the Food Security and Nutrition Analysis Unit (FSNAU) in Somalia, which is managed by the UN's Food and Agriculture Organization.
"Pasture and water is available for livestock, the condition of the animals is very good, prices are favorable, and exports are up 42 percent compared to the same time last year," says Ms. Nanitashvili.
"We expect those exports to increase further in the upcoming season during Ramadan and Hajj."
Still, 2.5 million Somalis, mostly in the country's Islamist-held south, are officially classified as in "emergency" or "crisis."
---