African HIV activists want a new model for prevention
The old 'Abstinence, Be Faithful, and Condom use' model for combating HIV doesn't work well in Africa, where the stigma of sexual diseases prevents people from protecting themselves.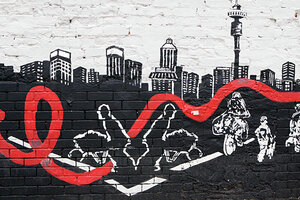 Denis Farrell/AP/File
For years, the world's largest donors for AIDS research and treatment have funded a simple message for how to prevent the spread of the HIV, the virus that causes AIDS: Abstinence, Be faithful, and Condomize, also known as ABC.
It's a message that has helped reduce the number of people engaging in unsafe sex all over the world, and according to AIDS activists, has saved lives. But in some parts of Africa, this message has been very difficult to sell, and local activists say it should be reviewed or scrapped.
For some governments, faith groups, non-governmental organizations, and individuals in Africa, ABC is simply not effective. It fails to curb the stigma still associated with AIDS, it pushes the epidemic underground, and it ends up hindering universal access to HIV diagnosis and treatment, they say.
The ABC message, hatched in the Bush era, would have been up for redesign anyway because of major strides made in scientific understanding of the HIV virus, as well as cultural differences in the way that couples interact in the 54 countries on the African continent, AIDS activists say.
But it is the persistence of mother-to-child transmission of HIV, as well as increasing levels of infection among people in relationships, that a new public message on HIV needs to take into account.
Some faith leaders here have designed a new strategy, called SAVE (Safer practices, Access to treatment, Voluntary counselling and testing, and Empowerment) to replace ABC. With a 2011 UNAIDS report that found that HIV infection rates continued to drop, but that the highest rates remain here in sub-Saharan Africa, secular civil society groups and government leaders are rallying behind the SAVE cause.
Fifteen African countries, including Sierra Leone and the Democratic Republic of Congo, have adopted SAVE, and Malawi is expected to adopt it soon.
---