Is Liberia turning into a haven for militant groups - again?
Human Rights Watch issues report saying Liberia is failing to control rebel groups launching raids into neighboring Cote D'Ivoire. Liberia rejects the charges.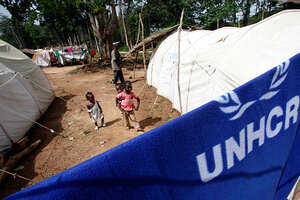 Thierry Gouegnon/Reuters
The Liberian government has lashed out at a human rights group for a new report that accuses it of ignoring war criminals from the Ivory Coast who are continuing to recruit mercenaries for deadly cross-border attacks.
The Human Rights Watch Report accused the government of "burying its head in the sand" and failing to detain, prosecute, and extradite those who committed some of the worst atrocities during the Ivory Coast's 2011 post-election crisis and then fled to Liberia.
The Ivorian crisis officially ended with the April 10, 2011 capture of former Ivorian President Laurent Gbagbo, who had refused to step down when opposition candidate Alassane Outtara won a Nov. 28, 2010 presidential runoff election that was deemed free and fair by the international community. An estimated 3,000 people were killed during the fighting between forces loyal to Gbagbo and Ouattara.
Since last July, Liberian mercenaries and Ivorian fighters recruited by loyalists to President Gbagbo have engaged in cross-border raids in Western Cote d'Ivoire that have killed an estimated 40 people and displaced thousands. The most recent cross-border attack on April 25 occurred in the Ivorian village of Sakré, near the Taï border, and left 8 dead. Human Rights Watch claims that the majority of those killed in the attacks have been civilians from ethnic groups who largely support President Alassane Ouattara. The human rights group also estimates there are between 100 and 150 people "who have either participated in past cross-border attacks or are organizing for future attacks." But the report adds, "the number could be larger."
---