Is Sudan having its own 'Arab Spring?'
Prompted by rising prices for food, housing, and fuel, student protests have spread to cities across the country. Will the government's harsh crackdown backfire and fuel the movement?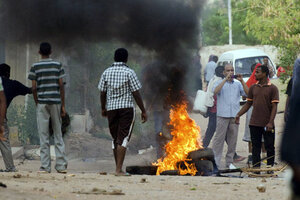 AP
More than a week of student protests across Sudan has many Sudanese citizens asking themselves: Is Sudan the next country to have an Arab Spring?
Sparked by a host of austerity measures from a government that lost 75 percent of its oil revenues when the southern part of the country seceded last July, Sudan's protests have been widespread, from the crucial Red Sea city of Port Sudan, to the capital of Khartoum to outlying regional towns such as El-Obeid. The numbers of protesters are nowhere near the size of the crowds that brought down the regimes of dictators Zine El-abiddine Ben Ali of Tunisia or Hosni Mubarak of Egypt in 2011, but the persistence of the protests in the face of harsh police crackdowns, the widespread economic discontent, and the very fact that Sudan's current President Omar Al-Bashir rode to power through street protests and a military coup make this round of protests hard to ignore.
In a speech quoted by Al Jazeera on Sunday, President Bashir dismissed the protesters, saying, "They said the economic measures were a chance for the Arab Spring, but we've already had the Arab Spring a number of times. When the Sudanese people revolt, they all come out. The people who are burning tires are a few agitators."
---