New Somali president survives terrorist attack, faces daunting job
Hassan Sheikh Mohamud was not injured in today's suicide bombings, but the attacks may be representative of some of the many challenges he'll face in leading Somalia.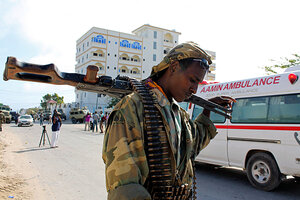 Feisal Omar/Reuters
On only his second day on the job, Somalia's newly elected president was given a stark and deadly warning today of what he is up against in perhaps the world's toughest government position.
Twin suicide bombers struck a hotel in central Mogadishu where President Hassan Sheikh Mohamud was giving a press conference alongside Kenya's foreign minister, Sam Ongeri. Neither man was injured, but the attacks are representative of the challenges in leading a country plagued by famine, poverty, corruption, and terrorist violence. But despite these many hurdles, some say Somalia's new leader has the characteristics needed to maintain recently won gains and edge the country toward improvement.
The political landscape
For Somalia's new leader, an academic and former aid agency consultant who swept the incumbent aside with 70 percent of the vote, the inventory of pressing tasks truly is daunting.
First, his government, when he appoints it, will control less than a fifth of his country. Al Shabab, Somalia's Al Qaeda-allied Islamist rebel force, while under pressure, still rule other parts of the country under repressive interpretations of Islamic law. The group has launched ever-increasing numbers of hit-and-run or suicide attacks, even in the heart of the capital, and claimed responsibility for today's attack, which killed eight people, including three Somali soldiers and at least two from the African Union peacekeeping mission protecting the president.
---