Africa warms to new Archbishop of Canterbury Justin Welby
Members of Africa's largely conservative Anglican communion say Welby understands the challenges that the church faces on the continent and can stave off a schism.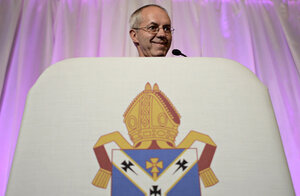 Dylan Martinez/Reuters
Anglicans in Africa greeted the appointment of Justin Welby to be the next Archbishop of Canterbury with cautious optimism, suggesting that the new leader of the global Anglican Church may be able to prevent a schism.
Mr. Welby, a former oil executive who became bishop of Durham a year ago, was officially announced today as the successor to Rowan Williams, who retires at the end of this year, as the spiritual leader of the more than 80 million member worldwide Anglican Communion.
Welby takes charge as the church is struggling with internal differences over several issues, including the blessing of same-sex unions in the church and the ordination of women and gays, which have pitted traditionalists in the Global South against liberals in the North.
But African Anglicans – mainly seen as conservatives – are warming up to Welby, who served as Dr. Williams' envoy to Africa and who the region's Anglicans say has a good insight into the challenges of the continent's church such as poverty. Welby worked in the Nigerian oil industry and was recently involved in reconciliation there.
Like the conservatives, Welby adheres to the traditional interpretation of the bible according to reports, and is opposed to gay marriage. He is open to ordination of women as bishops, but has not been as forthright about his views on ordination of gays.
But Professor Jesse Mugambi, an Anglican who teaches Religion and Philosophy at the University of Nairobi, says he sees no doctrinal, scriptural, or theological undertones in the appointment.
---