Who are the rebels in Goma and what do they want?
M23 rebels have taken over a key city in the eastern Democratic Republic of Congo.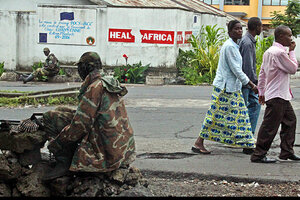 Melanie Gouby/AP
Rebels calling themselves the March 23 Movement have taken over the city of Goma in the eastern Democratic Republic of Congo. The country has seen a number of armed factions fighting in the east over the years. Here's what you need to know about this latest conflict.
Who is fighting whom, and why?
The rebel force made up of deserters from the Congolese Army formed in the jungle hinterland of eastern Congo earlier this year, calling itself the March 23 Movement, after the date of a failed peace deal signed in 2009. It is now also known as the Congolese Revolutionary Army. It is made up almost entirely of soldiers from the Tutsi tribe, who were folded into Congo's national Army following an earlier rebellion in 2008, which led to the 2009 agreement. But Tutsi commanders claimed the Congolese government was failing to promote their troops, or to honor peace deal promises of better pay, and they mutinied in April, with between 1,500 and 2,500 troops. Since then, they have been at war with the Army.
What are the rebels' goals?
On the face of it, they have been fighting to win control of territory that they can later agree to give up in return for guarantees that the conditions of the March 2009 peace treaty are honored. Now that they control Goma, the largest city in eastern Congo and a base for many international aid agencies and the United Nations, they have a very strong hand in future negotiations. Beyond this strategy, however, the area the rebels are fighting over has vast troves of valuable mineral resources, and controlling the mines is extremely lucrative.
What is Rwanda's involvement in this?
---