Will Mali be Africa's Afghanistan?
Mali was hit by two successive shocks to its system this year – with the north seized by rebels and a coup in the capital – leaving its government fragile and the international community mulling intervention.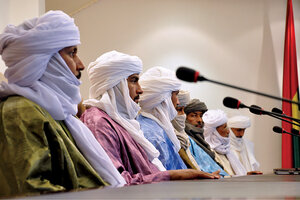 Ahmed Ouoba/AFP/Getty Images
Halachi Maiga was present last March at the fall of Gao, in northeastern Mali. He remembers the shooting, the panic, the mud-daubed cars, the ransacked offices, the attackers crying "God is great!" Today, violent rule by gunmen has left him unsure of how peace can best be restored.
"I'm for a military intervention because I want to liberate my country, region, and city," says Mr. Maiga, a schoolteacher and youth activist. "And I'm against it for the simple reason that it's war, and no one can predict how a war will go."
Mali was hit by two successive shocks to its system this year, leaving its government fragile and its future uncertain. Last winter, nearly half the country was seized by ethnic Tuareg rebels, who were later elbowed aside by Islamist militants. In a whirl of action, a military coup soon unseated the democratically elected president just weeks before elections were to be held.
Instability is still rampant in the north, where Islamists reign largely uncontested. As Mali – and the wider world – look ahead to potential armed intervention, many question what is needed to pull it back from the brink of chaos. Western countries fear it could become a semifailed state like Afghanistan, serving as a regional launchpad for armed groups.
Potential intervention, described by diplomats as increasingly likely, concerns not only Malians like Maiga, whose lives have been upended by unrest. It also worries international aid agencies that warn of more refugees, civilian deaths, human rights abuses, and the potential for reprisal attacks.
"Planning for the day after is very important," says a Western diplomat who was not permitted to speak on the record. "Even with a successful intervention, if you don't restore central government control you risk the same problems returning."
---