After grenade attacks, Kenya wants Somali refugees in camps
In light of an uptick in violent attacks in Kenya over the past year, often linked to Somalia's Al-Shabab, Kenya recently ordered all refugees living in its urban areas to move to established refugee camps.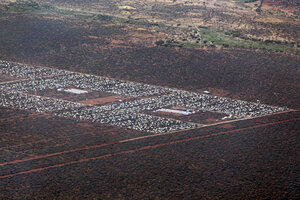 Ben Curtis/AP/File
After a spate of grenade attacks linked to Somali Islamist militants over the past 14 months, Kenya has ordered all refugees in its urban areas to move to established refugee camps, which the government says is necessary for security but international organizations argue could violate the refugees' rights.
In a Dec. 13 measure seen as uniformly targeting Somali refugees, the government said it was ending urban stays for all refugees inside its border and the mandatory registration of any other refugee who enters the country henceforth. The Kenyan government advised the United Nation High Commission for Refugees (UNHCR) and other refugee organizations to cease, with immediate effect, the provision of services to all refugees in Kenyan cities and towns, and transfer them to Dadaab and Kakuma camps.
"We bring to an end of refugees living in urban areas. That will be followed by repatriation of the refugees back to Somalia," Sora Katelo, the acting commissioner of refugee affairs in Kenya's ministry of immigration, told a news conference on Thursday.
"Their legal documentation has ceased to function in urban areas. So if they continue staying in urban areas, they will be doing so illegally."
700,000 refugees in Kenya
The Somali migrants are required to move to the town of Dadaab, which hosts the world's largest refugee complex, near the Somali border. The expansive "city of tents" in northeastern Kenya is the home of over 500,000 people who fled war and hunger in their war-torn country.
The over-crowded Dadaab complex of three camps – Ifo, Dagahaley, and Hagadera – also lacks enough services, and experiences serious security issues itself. A string of attacks involving explosives and guns have also occurred there, with the latest taking place on Friday near a voter registration center inside the camp.
---