In remote Western Sahara, prized phosphate drives controversial investments
Morocco's mining of the lucrative fertilizer ingredient in occupied Western Sahara has sparked charges it is violating international law – and that global customers are looking the other way.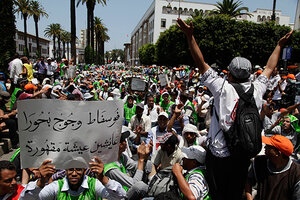 Reuters/File
Laayoune and Boucraa, Western Sahara
At the end of a pier stretching more than a mile-and-a-half into the Atlantic Ocean from Laayoune, a 75,000-ton tanker vessel rocks slowly in the ocean swells, creaking and groaning as it takes on a new load.
A long spout pours phosphate from a conveyor belt into the ship's hold, and some of the powdery substance spills into the air like dust, coating the deck of the vessel and stinging as it blows in the strong wind. By the next day, this tanker, called the Double Rejoice, will be on its way across the Atlantic to Baton Rouge, La., where its load of phosphate will be delivered to PCS Nitrogen Fertilizer, the American subsidiary of PotashCorp, the biggest fertilizer company in the world.
Farther out to sea, two more vessels wait for their turn to load.
Phosphate is a key ingredient in the fertilizer that helps makes it possible to feed the world's growing population. The world's supply of phosphate is concentrated in just a handful of countries, with more than three-fourths of that in Morocco and Western Sahara. But exploiting Western Sahara's supply of this critical resource is controversial.
Once a Spanish colony, Western Sahara has been occupied by Morocco since 1976, and roiled by regional power politics and an independence movement that waged a guerrilla war until a cease-fire in 1991. With Morocco's sovereignty over Western Sahara unrecognized by the UN, many in the international community argue that Morocco is violating international law by exploiting the territory's resources – and that global companies should not be party to that.
Yet the phosphate mining by a Moroccan company goes on, and foreign companies like PotashCorp continue to buy. In 2008, prices for phosphate rock spiked, raising the incentive to ignore international law and continue exploiting Western Sahara's phosphate. Prices have since dropped, but have still increased by more than 300 percent since 2007. At current prices, the load in the hold of the Double Rejoice would be worth nearly $14 million.
---