In Kenya, dancing, doubt, and sighs of relief as Kenyatta wins presidency
Uhuru Kenyatta got 50.07 percent in an election that stood in sharp contrast to the 2007 vote, which saw deadly outbreaks of violence. His opponent has said he'll challenge the results.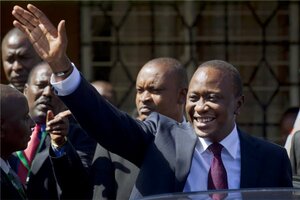 Ben Curtis / AP
Uhuru Kenyatta is poised to become the country's next leader, in an election that has raised concerns about vote-rigging and whose results are being challenged by opponent Raila Odinga.
Supporters of Mr. Kenyatta, the son of Kenya's founding president, celebrated his election victory with singing and dancing after the Independent Electoral and Boundaries Commission declared that the Jubilee Alliance Coalition candidate had won 50.07 percent of the vote, narrowly avoiding a runoff. The election saw a record turnout estimated at 82 percent. Some said it may also be the highest turnout ever in Africa.
Even as the celebrations by supporters got under way, however, Mr. Odinga's Coalition for Reforms and Democracy (CORD) told a news conference that he will immediately challenge the results in the Supreme Court, saying democracy was on trial in Kenya.
"The figures in some of my strongholds were reduced, while those of [Kenyatta's] Jubilee were increased," said Mr. Odinga, citing as an example Dhiwa Constituency in his stronghold of Nyanza County.
For many ordinary Kenyans, however, the declaration of a winner after a tense week of tallying votes came as a relief, given the backdrop of the previous election in 2007, which erupted into violence that killed more than 1,100 people.
---