In Nairobi, 200 idle children arrested in bars as adults fight over teacher pay
Kenya's teachers are demanding that a pay raise from 16 years ago gets implemented. Kids are not in class, and parents are angry.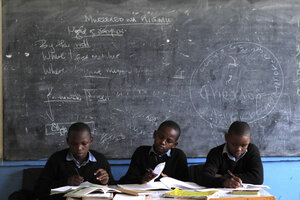 Noor Khamis/REUTERS
A bitter, three week teachers pay strike in Kenya that has preoccupied the nation now shows some unfortunate side effects as hordes of school age children were arrested in bars and hangouts in downtown Nairobi where they were drinking, smoking, and dancing, according to police reports.
Since June 25, the strike has paralyzed learning in Kenya's 19,000 public primary schools and 5,200 high schools and left students idle.
While the unions and the government have been at loggerheads over pay, it seems the kids, or at least some of them, have gone a little wild.
Nairobi authorities swept into bars and "reggae music discotheques," as Nairobi police chief Patrick Oduma put it, after citizens complained that downtown bars were full of school age children and that some were harassing ordinary people.
"To our surprise we found there is a very big number of under-age children [drinking]," Mr. Oduma said, adding that, "We have arrested the bar operators although we are yet to get the owners."
Initial florid reports of some 1,000 children arrested were exaggerated, police authorities told the Monitor. But in recent days they did arrest some 170 boys and 35 girls.
"We arraigned some [of those drinking] in the children's court. We set others free," says Benson Kibui, the police commandant for Nairobi county.
---