Can Kenya's leaders skip part of their international crimes trials?
Five East African nations want the International Criminal Court to allow Kenya's VP to miss some of his court dates in order to fulfill governing duties.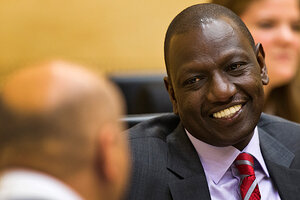 Michael Kooren/AP
Five African nations called Friday for letting Kenya's vice president skip parts of his trial for crimes against humanity, amid continuing doubts in the region about the fairness of the International Criminal Court.
The request comes just days after Vice President William Ruto pleaded not guilty in his first appearance at The Hague. He and Kenya's recently re-elected president, Uhuru Kenyatta, face charges connected to the violence that erupted after the 2007 elections, killing some 1,300 people and displacing more than 600,000 from their homes.
The two won office in March amid promises they would attend their trials and could also govern during the trial via Skype, for example.
The petition by Rwanda, Tanzania, Burundi, Uganda and Eritrea is the latest wrinkle in a saga being watched closely by Africans and international jurists alike, even as anger is deepening anger among Africans that the ICC is targeting them and ignoring crimes in other parts of the world. 
Last week, Kenya's parliament voted to pull out of the ICC, though three days later Ruto flew to The Netherlands to sit in the dock.
The five-nation petition argues that that the ICC's effectiveness and its support among African nations would be bolstered if it allowed an exemption for Ruto. This summer the court's trial chamber considered a request by Ruto's lawyers that he be allowed to be absent for all but a few sessions.
They've also argued that Mr. Kenyatta, whose trial is scheduled to begin in November, needs to be able to travel to sensitive meetings and make security decisions with regional peacekeeping forces that can not be done from a room in Holland.
Trials for Ruto and a Kenyan radio broadcaster, Joshua arap Sang, opened at The Hague on Sept. 10. The two men face charges of murder, forcible transfer of population and persecution in the 2007 violence.
ICC spokesperson Fadi el Abdallah confirmed Friday that the court had received the request from the five East African nations but had no further comment.
Meanwhile the African Union has petitioned the ICC asking that the trials be suspended until "constitutional" questions arising out of the defendants' status as vice president and president can be settled.
News reports has said the AU has written to ICC President Judge Sang-Hyun Song, arguing that the Kenyan constitution does not envisage a situation where both head of state and his deputy are out of the country at the same time.
"While Kenya has always cooperated and reiterated its commitment to continue cooperating with the court, it must do so in the context of its own constitutional requirement," said the letter jointly authored by the AU chairperson and Ethiopian Prime Minister Haile Mariam Desalegn, and commission chairperson Nkosazana Dlamin-Zuma.
Last week there angry questions were raised in Nairobi as to whether Ruto and Kenyatta would be in the dock at the ICC simultaneously. But the court clarified this issue saying that the trials of the two accused would not overlap. 
---