World Cup 2010: South Africans ready for 'Bafana Bafana' ready to 'surprise the world'
(Read article summary)
Despite the predictions of soccer analysts, South Africans are convinced that their national team – also known as the Bafana Bafana – will shine in the World Cup. They play Mexico in the opening game on Friday.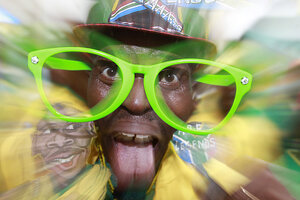 Peter Andrew/Reuters
Johannesburg, South Africa
"We are going to surprise the world!"
The statement, coming just days before the World Cup, could only be about football – or soccer as it is known in certain parts of the world.
The man speaking is wearing the yellow and green T-shirt of South Africa's national team, nicknamed Bafana Bafana, so I can guess who the "we" is that he is speaking of. He's sitting at a bar in northern Johannesburg with a big TV screen playing a "friendly" match between Switzerland and Italy that ends in a draw.
South Africa hasn't been this optimistic and buoyant in years.
Since I arrived in South Africa, in 2006, the country seems to have gone from corruption scandal to high-profile trial in an endless tale of self-destruction.
In April, after the murder of a racist white politician that prompted threats of a "machete race war" and summoned up surprising levels of sympathy from white folks who shared few of the racist politicians ideas, South Africans seemed to think their country was on a fast path to Zimbabwe-hood.
One South African columnist, Aubrey Matshiqi, summed up the country's mood perfectly by calling it "hysterical pessimism."
---