South Africa World Cup: What's worse, the vuvuzelas or the whining about them?
(Read article summary)
Calls to ban the long, plastic horns called vuvuzelas from the South Africa World Cup are increasing as players, coaches, fans, and announcers complain about how distracting they are.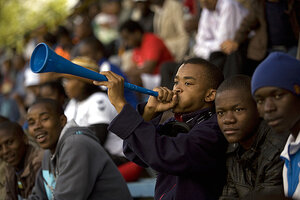 Melanie Stetson Freeman/Staff
Johannesburg, South Africa
How do I compare thee, oh vuvuzela? A swarm of bees, perhaps, or a runaway freight train tearing through the inside of one's cranium.
Local South Africans call the arm's length plastic trumpet part of their soccer tradition, saying it gives their players an advantage. Outsiders, including the world's best player, Argentina's Lionel Messi, and even a few South Africans, consider the vuvuzela a nuisance that should be banned from the South Africa World Cup. A stadium full of vuvuzelas drowns out the bands and songs of other visiting nations, they argue.
IN PICTURES: 10 World Cup players to watch
Gift, a Zimbabwean migrant who sells vuvuzelas and national flags on a street corner in Johannesburg, has the merchant's natural dislike of strong opinions.
Personally, he dislikes vuvuzelas. But he's happy to sell them.
"I think they should be banned, because in Zimbabwe at football matches, we sing songs, we dance, and here, with the vuvuzelas playing, eh, you can't hear anything," says Gift, who won't give his full name. That said, he has already sold out today's stock of vuvuzelas by noontime, and he doesn't think World Cup organizers could get rid of vuvuzela even if they tried. "Everyone has them now, even the Europeans. So I don't think they can ban them."
---