World Cup schedule June 16: Spain vs. Switzerland, others
(Read article summary)
Honduras vs. Chile starts the day, followed by Spain vs. Switzerland, and finally South Africa vs. Uruguay. The host country is looking to upset another Spanish-speaking nation, following its tie against Mexico.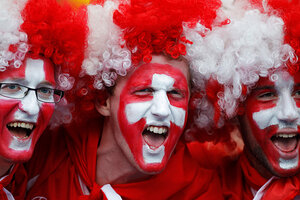 Carlos Barria/Reuters
Chile is expected to defeat Honduras, Spain is expected to trounce Switzerland, and South Africa is looking to upset Uruguay on the World Cup schedule Wednesday (all coverage).
WEDNESDAY (June 16):
Honduras vs. Chile, 1:30 pm (7:30 am EST)
Spain vs. Switzerland, 4 pm (10 am EST)
South Africa vs. Uruguay, 8:30 pm (2:30 pm EST)
No. 18-ranked Chile is expected to control its opening match against No. 38-ranked Honduras.
Spain boasts one-third of the world's top 15 soccer players, according to ESPN: Xavi (ranked No. 4), Andres Iniesta (No. 7), Fernando Torres (No. 8), David Villa (No. 11), and Iker Casillas (No. 15).
---