Mexico vs. France: El Tri bids France's World Cup adieu
(Read article summary)
Mexico vs. France: 2-0. A scrappy Mexico team outplayed Les Bleues in today's match, frustrating some of the world's top stars.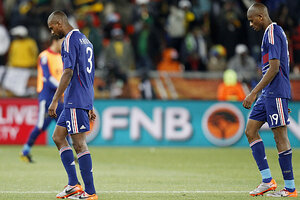 Luca Bruno?AP
France vs. Mexico began as a classic match between a world class soccer power pressing its methodical offense against a disciplined, scrappy team eager to draw blood on the counterattack.
Mexico came out hard, fouling the talented Frenchmen early and lighting up the left flank with quick runs toward goal.
They got the most chances early, rattling the veteran French defense and forcing careless mistakes.
IN PICTURES: 10 World Cup players to watch
That set the tone for the game: Mexico simply wanted it more.
Mexico's Giovani dos Santos almost scored in the first few minutes with a low drive that hit the post, but he was offside.
Then, teammate Guillermo Franco pulled the trigger after a nice move, but missed high right.
A few minutes later, Mexico's Carlos Salcido just missed the far post on a low left-footed strike. It was the first of two good chances from him.
France, meanwhile, controlled the midfield with some nice passing, but their attack was too slow to develop and was repeatedly broken up by a tough Mexican defense.
---