England vs. Germany: 1966 reversed as Three Lions slain by four goals
(Read article summary)
A shockingly disallowed goal for England will make all the news. But for the most part, England was played off the pitch by a young, energetic Germany in the England vs. Germany round of the World Cup.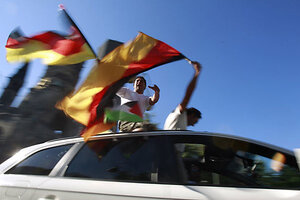 Tobias Schwarz/Reuters
The first half of today's match began as one for the history books (or perhaps the history I Pads), but ended in a crushing defeat for England.
The Three Lions showed glimpses of why many analysts picked them to be among the top teams in the tournament (and, yes, they were robbed of a clear goal right before halftime), but over the course of the match they were overpowered by an organized, efficient, and downright lethal German attack.
Germany repeatedly caught the English defense off guard, sending the red-shirted Englishmen scurrying like bewildered schoolchildren.
IN PICTURES: Top 12 Goals of the Second Week
IN PICTURES: Top 10 Goals of the First Week
The Germans opened up the Deutchlandergoalfest in the 20th minute with a goal from their go-to guy, striker Miroslav Klose.
Goalkeeper Neuer, playing some sort of German Moses, split the English defense like the Red Sea with a punt that bounced deep in the English half of the field and into the path of Klose, who kept sturdy England defender Matthew Upson at bay with a stiff arm that would have made Walter Payton proud. Then, with reptilian poise, the killer, Klose, prodded the ball past English goalkeeper David James as he tumbled to the turf.
---