Kagame's Rwanda election win may bring Singapore-style authoritarian rule
(Read article summary)
Rwanda election winner Paul Kagame has expressed doubts about the wisdom of importing democracy, favoring a government similar to Singapore, where authoritarian rule oversaw steep economic growth.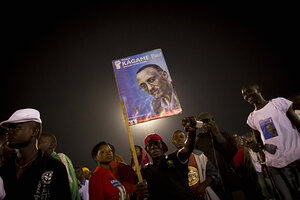 Marc Hofer/AP
Pardon me for not blogging about Paul Kagame's electoral victory; it was not much of a surprise. Instead, I've been wanting to talk about something that he mentioned often on the election trail: Singapore.
On numerous occasions over the past months, we have heard President Kagame express his doubts about the wisdom of importing democracy to Rwanda. He has said numerous times that he feels that the kind of limited democracy of South Korea, Taiwan, and Singapore – all countries where authoritarian governments oversaw periods of steep economic growth – is more suited for Rwanda.
Political pundits like Andrew Mwenda agree, saying that the elites' isolation from popular pressures will allow them to avoid populist redistributive programs that mire the country in patronage. Their top-down management and lack of opposition can allow them to push through difficult reforms such as the new land law and the introduction of English as the language of instruction. He argues that this has allowed Rwanda to avoid the corruption trap of its neighbor Uganda, where the NRM has maintained its rule through patronage and co-option.
---