Cement may pave Africa's road to the future, but will China undercut that, too?
(Read article summary)
Cement may lack the luster of diamonds or the geopolitics of oil, but it forms the foundation of what might be Africa's industrial big bang. Now China is moving in, undercutting African producers.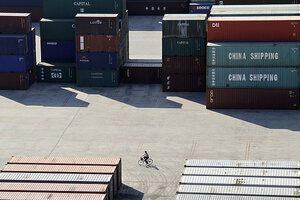 AP
Les Ciments Du Gabon was for decades the only building material company that the equatorial seaside African country of Gabon ever knew – a national monopoly that churned out some 250,000 tons of cement annually in beige and blue sacks that transmogrified into Libreville's skyward-spiraling condos and government ziggurats.
Then came the imports: cement shipments from Cameroon, Kazakhstan, and most of all China.
Now, as of this week, Les Ciments' executives are saying they may close their kilns – for good.
"Chinese cement is sold at a price that doesn't allow [us] to compete," Development Director Arthur Meka Me Ndong explained to Bloomberg News.
Yes, we are writing (and you are reading) about cement: Bland bags of limestone whisked with clay that are, however ho-hum, the stuff that Africa's dawning industry, its presidential palaces and cookie-cutter walk-ups are made of. It's also what made billionaire Aliko Dangote one of Nigeria's richest men.
The commodity may lack the luster of diamonds, or the geopolitics of petrol, but cement forms the foundation of what might be Africa's industrial big bang.
---
Follow Stories Like This
Get the Monitor stories you care about delivered to your inbox.