Africa may survive climate change better than expected
(Read article summary)
Adaptation to climate change could be easier for African nations because of rapid changes – particularly urbanization – happening across the continent.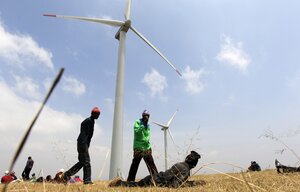 Thomas Mukoya/Reuters
The fierce debate over the extent of climate change should not obscure the severe differences of opinion over how much adaptive skills of humans will influence the adverse effects of climate change. Especially in the sub-Saharan, where the severity of warming is expected to be among the greatest in the world and where the fragility of the environment is already high in some significant sub-regions. A concensus seems to be emerging that improved governance could significantly reduce the pain of climate change for ordinary Africans. Here's the superb Andrew Revkin on this important perspective:
"Many scientists believe that sub-Saharan Africa will be particularly vulnerable in the coming decades to climate-related dangers like heat waves and flash flooding. But global warming is the murkiest of factors increasing the risks there. Persistent poverty, a lack of governance and high rates of population growth have left African countries with scant capacity to manage …."
Revkin makes an excellent point that climate change isn't a scourge in itself; rather, how humans adapt to changing weather is crucial. We might place his perspective in an emerging perspective that priviledges the "social construction of climate change." Across a wide spectrum of challenges posed by climate change, the short-term response could well be to alter "patterns of development," as Daniel Sarewitz, my visionary colleague at Arizona State University has so eloquently and persuasively argued in many formats in recent years, notably an Atlantic piece from 2000 that remains prescient today.
---