A fair trade approach to Africa's diamonds
(Read article summary)
A US company brings fair trade principles to Africa's diamond industry and aims to improve the life of diamond miners.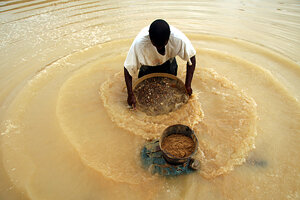 Tugela Ridley/Christian Science Monitor
Recently, I learned about The Clarity Project, an effort to bring fairly-mined, fairly-sourced diamonds into the jewelry market. Impressed by the venture and the website, I did an email interview with Jesse Finfrock, one of the founders. In addition to making diamond engagement rings a possibility again, The Clarity Project is a fascinating exercise in making the market in luxury goods work for the people who literally pull the luxury out of the ground.
As the Congo Minerals Act continues to generate attention and controversy, The Clarity Project may have a thing or two to show us -- not just about how to deal with minerals responsibly, but about how ordinary concerned citizens can educate themselves into savvy business-changers.
JM: Where did this all begin?
TCP: Like many progressive, socially aware people in our generation, we long had the impression that the diamond industry was hopelessly corrupt, superficial, and should probably just be boycotted altogether. But as we met with miners and visited their communities we were introduced to people whose livelihoods and social systems depended on diamonds. We heard from them that boycotting the industry would hurt their communities, which are already struggling with urban migration. Indeed, it was happening all around as the diamond industry shrank due to the global recession. Boycotting, we learned, wasn't going to help anybody.
JM: Tell me about the first mine you visited.
---