Burkina Faso presidential vote won't change much
(Read article summary)
President Blaise Compaoré, who has held power since a 1987 coup, is likely to win reelection – and solidify his regional influence.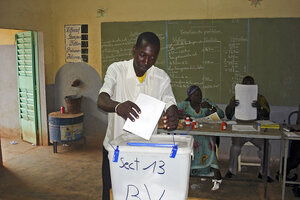 AP
Yesterday the Burkinabé voted in an election that most observers expect President Blaise Compaoré to win. Results are expected later this week. I'll post them when they come out, but it seems possible already to assess the domestic and regional impact of the election: at home, some restructuring (including the potential abolition of term limits) and abroad, continued influence for the president.
VOA reports:
President Compaoré faces five opposition candidates and one independent. His key challengers are opposition leader, Bénéwendé Sankara, who placed second in the 2005 poll, and first-time candidate, Arba Diallo, deputy mayor of the northeastern town of Dori.

Mr. Compaoré has been in power since a 1987 coup and won the last election in 2005 with 80 percent of the votes.

Voters in Burkina Faso say there is little suspense Sunday as they line up outside polling stations in the capital, Ouagadougou.
Turnout apparently ran so low that Compaoré turned to the media to encourage voters to come out.
If elected, the president's party, the Congress for Democracy and Progress (CDP), has promised to implement "political and institutional reform, including the creation of a senate in addition to the national assembly" and will also try to end presidential term limits.
---