In Rwanda, a rebel commander's case that no one wants to try
(Read article summary)
Two years after Rwanda arrested Congolese rebel commander Gen. Nkunda, it still doesn't know what to do with him – he knows too many secrets that could come out if he is tried.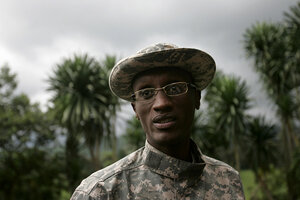 Karel Prinsloo/AP
I've been a bit incommunicado of late. Sorry about that, there are lots of looming deadlines in my future and preparing to be out of town on a tour du monde for an entire month is consuming most of my blogging time. Speaking of, if you're up for hanging out in Shanghai, Chengdu, Nanjing, Montreal, Miami, D.C., or Chicago in March, let me know. I'll be giving public talks in Nanjing and Montreal and presenting at conferences in Montreal, Miami, and Chicago and would love to connect.
Anyway, my inbox is alarmingly empty of hate mail, so let's talk Great Lakes politics for a bit. In late January, we passed the two-year anniversary of renegade Congolese general Laurent Nkunda's arrest by the Rwandan government. Nkunda has been held under house arrest just outside Kigali since that time without charge or trial. As Rwandan Minister of Justice Tharcisse Karugarama told Kenya's Daily Nation, Nkunda's case isn't easy. Trying a case you don't want to try never is.
---