Nigeria's Goodluck Jonathan receives important northern endorsement
(Read article summary)
Nigeria's incumbent President Goodluck Jonathan received an endorsement from a prominent northern politician that could be critical for the southern-born candidate in the April 9 presidential election.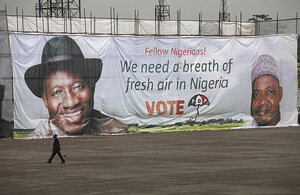 Akintunde Akinleye/Reuters
Nigeria's presidential elections are less than a month away. Incumbent President Goodluck Jonathan, a southerner, continues to pursue outreach toward the north. Jonathan, whose candidacy undermines a north-south power-sharing agreement in the eyes of some northerners, has campaigned heavily in Nigeria's "Middle Belt" and has promised economic development in the "Core North." Now, he has secured the endorsement of a prominent northern politician, former President Shehu Shagari.
Nigeria has a number of living former heads of state, some of whom remain active politicians (Muhammadu Buhari, Ibrahim Babangida, Olusegun Obasanjo) and some of whom do not (Yakubu Gowon, Shehu Shagari). Securing the support of active politicians will be important to Jonathan's campaign, but Shagari's backing lends the gravitas of an older Northern statesman to the younger Southerner's presidential bid:
---