Kenya's journalists vie to make up for years without a free press
(Read article summary)
The country's journalists aren't wasting time getting to the tough questions or putting politicians and businessmen under a microscope.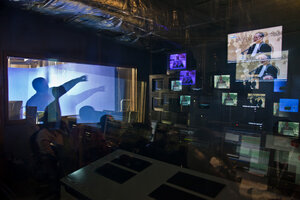 Brendan Bannon
This post is part of the Daily Dispatch project chronicling life in Nairobi, Kenya throughout the month of April.
The red digits on the clock on the newsroom wall climb steadily towards 10:30 a.m. Guys in shirtsleeves thumbing BlackBerrys march past to meetings. Desk phones peal.
A plasma TV shows a smiling Kenyan politician spilling out of a shiny Mercedes by a smart office block 4,000 miles away in Europe.
He is one of six men accused by the world's war crimes court of organizing election violence here three years ago. He and two others will appear before judges in Holland for the first time this morning.
It's going to be a busy day for Robert Nagila, a news reporter here at NTV, one of Kenya's leading television channels.
Bounding down the stairs, cameraman Steve Mwei three steps behind him, Nagila is heading to Nairobi's tea shops, to watch Kenyans watch the proceedings, gauging what he calls "the mood of the people."
A short dash across the city and we're in Lowi's Place, a fried food joint in downtown Nairobi. Customers sit glued to the television. Ekaterina Trendafilova, the court's presiding judge, reels off the accusations – murder, forcibly transferring people, persecution.
Nagila's there, on his feet, recording a piece to camera, before sitting to interview Ambrose Muga, Lowi's owner. He barely pauses as a plate clatters to the floor in the kitchen. A dozen questions later, we whirlwind out the door.
---
Follow Stories Like This
Get the Monitor stories you care about delivered to your inbox.