Could South Africa become a global voice for human rights?
(Read article summary)
Although South Africa has a strong human rights record within the country, its foreign policy record is less exemplary, Human Rights Watch says.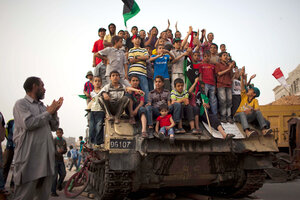 Rodrigo Abd/AP/File
Johannesburg, South Africa
If the United States has lost its moral high ground as an advocate for human rights – after its wars in Iraq and Afghanistan, its "enhanced interrogation techniques" and military courts at facilities like Guantanamo Bay, Cuba – then who can activists turn to as a consistent voice for human rights?
The answer may be South Africa, India, and Brazil, says Philippe Bolopion, who directs United Nations work for Human Rights Watch.
In fact, he's come to South Africa to make that very point. South Africa's very history – its great struggle against racist oppression, its leaders who confronted a morally bankrupt system with higher principles of human rights and equality before the law – make it a perfect advocate for human rights. Now, as a nonpermanent member of the United Nations Security Council, South Africa can have a profound effect on global events.
---