Boko Haram attacks show new range, sophistication
(Read article summary)
Recent attacks by Nigerian Islamist militant group Boko Haram drive home to politicians the need to bring isolated northern Nigeria into alignment with the government.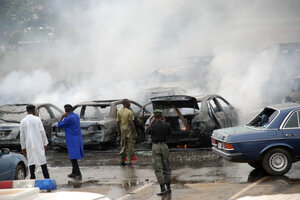 Felix Onigbinde
Last week, Nigeria's Boko Haram movement claimed responsibility for a bombing at the police headquarters in the capital Abuja. Boko Haram has struck outside of its base in the Northeast before, but the Abuja bombing and other recent attacks have shown that the group is expanding its geographical range and increasing the sophistication of its attacks, sometimes coordinating multiple strikes at once.
Another example of these trends came yesterday in Katsina State, which is slightly west of the center of Nigeria's upper North (map), and a fair distance from Boko Haram's stronghold of Borno State (map). Accounts of the attack vary slightly, but here is AFP's report:
Suspected members of the radical Boko Haram Islamist sect on Monday staged simultaneous bomb and gun attacks on a police station and a bank killing seven people, witnesses and local journalists said.

The dead included five policemen, witnesses said, in an attack coming just four days after the sect bombed the country's police headquarters in the capital Abuja killing at least two.

A gang of 10 gunmen launched the two attacks on a police station and a bank in Kankara town, 130 kilometres (80 miles) south of the northern city of Katsina.
---