Sudanese refugees forced back to violent town, according to UN
(Read article summary)
The latest United Nations report on violence in South Kordofan, Sudan, says that displaced persons were pressured into returning to their homes in the capital city, which they fled earlier this month.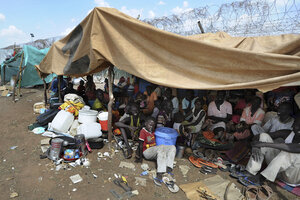 Paul Banks/AP/UNMIS
Nearly three weeks into intense fighting in the Sudanese border state of South Kordofan, the Sudanese government appears intent, in the face of international condemnation, to add to the already long list of serious international law violations that reports say its forces are committing on the ground.
The latest UN Office for the Coordination of Humanitarian Affairs report on the situation in South Kordofan noted that the security situation in and around the capital of Kadugli and across the state has largely calmed in the last two days. But read further in the report about how some of the displaced people have been treated, for instance on Monday, June 20:
[L]ocal authorities entered the area around the UNMIS compound near Kadugli town and informed displaced people that Kadugli town was now safe for them to return to their homes, and that services would no longer be provided at that location but rather in areas of return. A radio broadcast by the Ministry of Health two days earlier similarly encouraged displaced people to return home. Those whose houses were destroyed in the fighting were told that they would be registered, provided assistance, and accommodated either in schools or at Kadugli Stadium. Vehicles were provided by the state government to transport them back to their places of origin.
---